Register for Free 30min Workout!
By registering, you agree and consent that your personal data provided may be collected and used for future marketing activities, in accordance with the Personal Data Protection Act 2012.
Transform Your Body with Our 30min Kickbox Workout!
Burn up to 500 calories per workout - tracked by

our wearable heart rate technology (9Round Pulse)

Trainers Included - to guide & motivate you everyday



Never Get Bored - new workouts available daily
30 min Full Body Workout - In and Out Quick

Access to 9Round Customised Nutritional Guidance
Why do 9Rounders love working out with us?
"If you wanted to stay fit or start a healthy and active lifestyle, this fitness place would be able to help you to achieve your goal. The trainers here are professional and their work experiences are commendable. The fitness gym is also well-maintained and I really like their shower room because it guarantees you privacy. This place deserves a five-star rating!."
~Chloe Fisher, Google Reviews
"One of the best gym I've been to. The perfect balance with the trainers, who will give you the utmost attention when you need it. Please give this place a try, as the first workout is FREE! The trainers always there to help when I asked for. HIGHLY RECOMMEND!!!"
~Chee Keat Oui, Google Reviews
"Been here for the past 4 months. BEST DECISION ever! :) wonderful atmosphere and seeing how I was from F45, I would really recommend this place to all. The Trainers are really professional and friendly in dealings with members and walk-in alike. I would like to specially mention Raj and Fahmi and gang (Omar, syed, Shafiq). They are like family. They know how to tailor the workout to your level of fitness, so encouraging. I really enjoy my time here. I am hardly one who looks forward to a workout but I really do each day for the 30 mins.
Just an honest opinion of mine. I know ppl hv their views but I think u should give it a try! I have asked my friends to come over and my cousin has alr signed after the trial. Thank you guys! Totally worth it."
~Amanda Lee, Facebook Reviews
"This place will be a great help to you if you wish to loose some pounds and start wit a fit healthy living. The equipment here are safe and regularly checked, they have highly trained fitness coach that will assist you with your chosen program. One of the best fitness gyms in Singapore"
~Theresa Tham, Google Reviews
"Have joined 9 round since Oct 2019. Its a great 30mins workout each day with 9 stations, guided by trainers. They provide summary of workout (eg. Calories burn, average heart rate) after every session sent to email and best part is, you can just walk in anytime and start workout. No booking of class required. Awesome! 💪🏻 Big shoutout to Raj, Fahmi and Uma for the great guidance and training. Power! 🥊"
~Joanne Siong, Facebook Reviews
What is 9Round Heart Rate Technology?
9ROUND PULSE™, our wearable heart rate technology, makes it easier than ever to get the results you want. It tracks the effort you're putting into your workouts, so you always know if you need to work harder or slow down to burn fat and improve your health.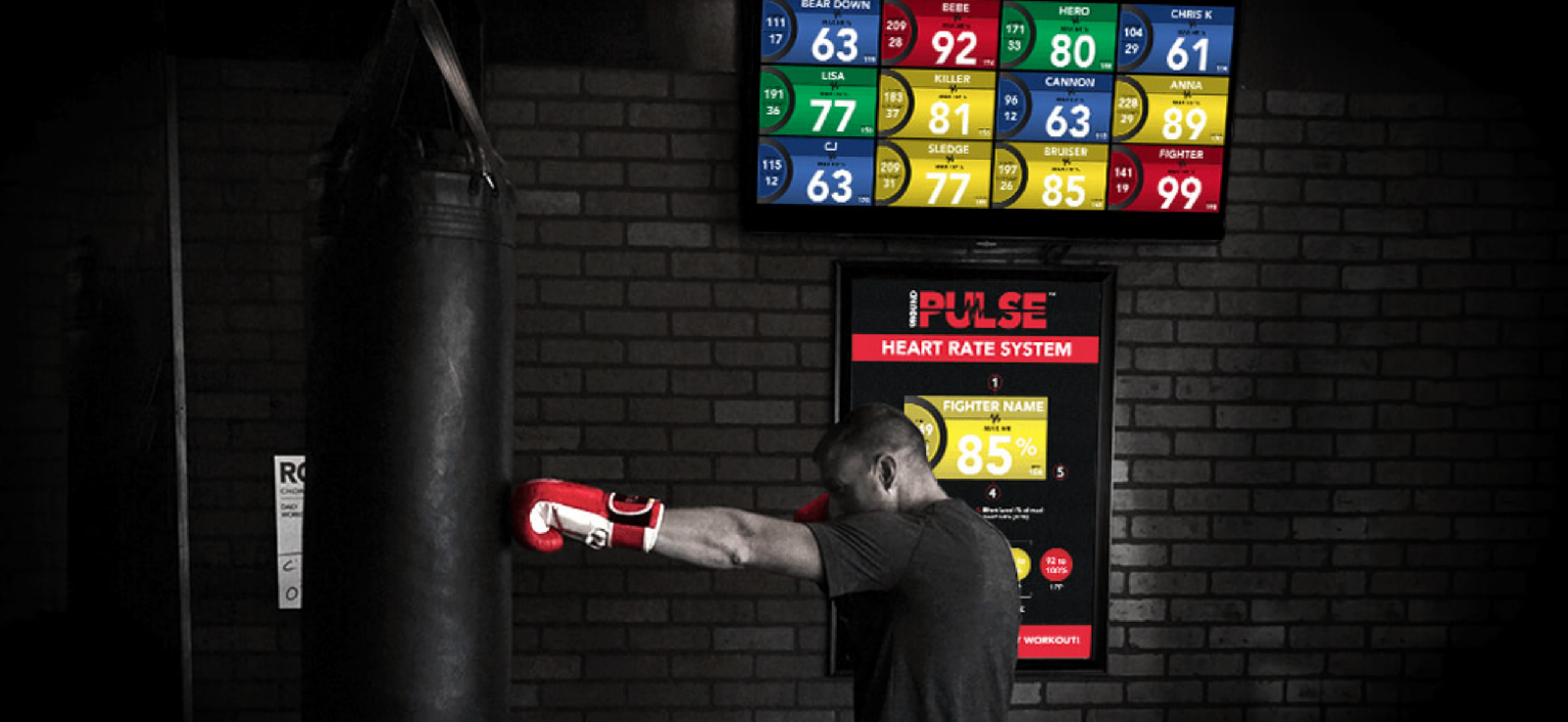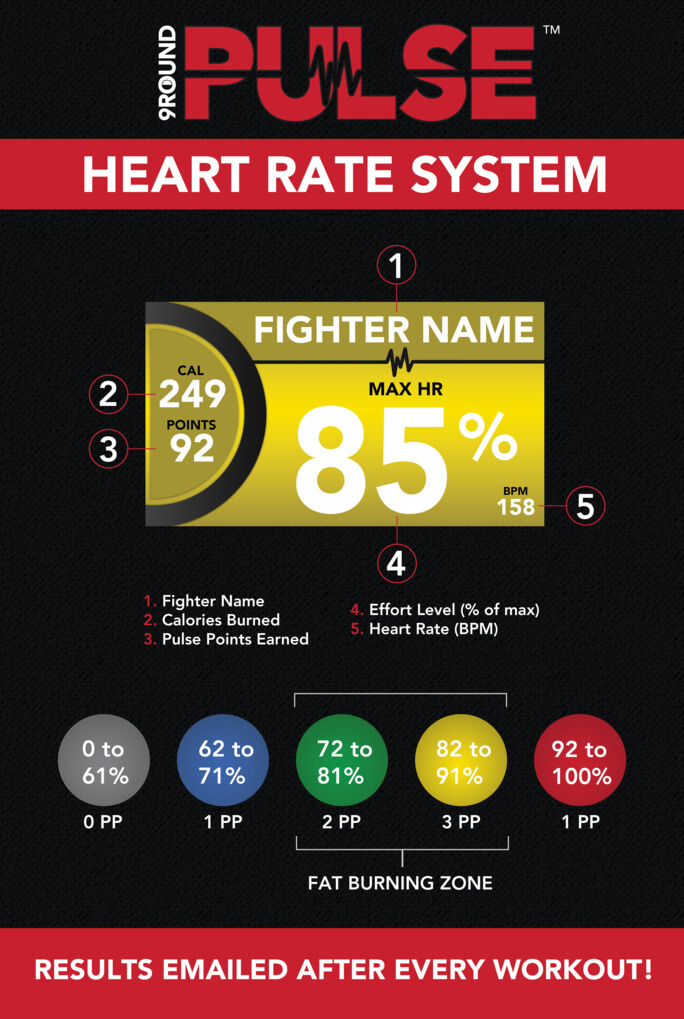 1) You wear your 9ROUND PULSE™ belt during your workout.
2) As you work out, the device tracks how hard you're working and displays your effort rating, your heart rate and calories burned on a monitor inside the 9Round club.
3) You can easily see if you're in your optimal fat burning zone and adjust your effort up or down as needed.
4) View your results and progress any time from the app or your online account. Your results are also emailed to you after each workout.
IT'S TIME TO GET STRONGER